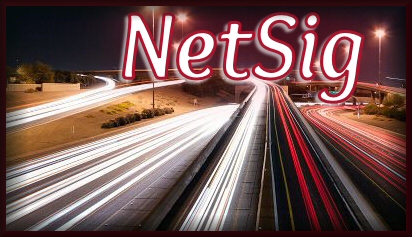 Fourth Thursday Evening of the Month
6:30 PM to 8:00 PM
We'll be meeting virtually and in person at the Quality Foods Small Boardroom at Eagle Ridge in View Royal.
Virtual Meetings … https://meet.vinnythegeek.ca/netsig

Bring a laptop with linux and Wireshark (download) installed.

What is NetSig?
A Special Interest Group focused on computer networking.
Building Networks for Today and Tomorrow!
1.5 hours on a weekday evening
Half of the meeting is education or presentation.
Half is sharing, and problem-solving.
A gathering of like-minded persons.
Understand and solve some of the challenges in networking today.
Are you IPv6 ready?
Help Victoria become a leader, rather than a follower in Networking.
Topics
Education | Traffic analysis: ELK stack and Packet Beat | Virtualized Networking in Cloud containers | IPv6 | Routing |
See Craig's Website for presentation notes.
All of the NetSIG presentations can be found at:
http://www.makiki.ca/netsig/ #IPv6-only
http://www.makikiweb.com/netsig/ #for the legacy IPv4 folks 😉
1isp_home_network.png
2019_07_wireshark_intro.html
2019_08_openwrt_intro.html
2020_01_probing_deeper_with_nmap.html
2020_02_NetSIG_-_Firewall_Tech.pdf
2020_04_the_details_behind_wifi.html
2020_05_MIMO_RF_Tech_Primer.pdf
2020_07_NetSIG_DNS_Presentation.pdf
2020_08_dns_q_and_a.html
2020_09_NetSIG_Fun_with_Curl.pdf
2020_10_network_proxies.html
2020_11_happy_eyeballs.html
2021_01_sshfs_files_sharing_made_easy.html
ethereal-tcpdump.pdf
ipv6_home_network+.png
2021_2_25 http://www.makikiweb.com/netsig/2021_02_network_troubleshooting.html
2021_3_ 25 http://www.makikiweb.com/netsig/2021_03_back_to_basics_nat.html
2021_5_27 http://www.makikiweb.com/netsig/2021_05_wireless_mesh.html