Victoria PiMakers And Others
Winter 2017 Newsletter
Happy Holidays!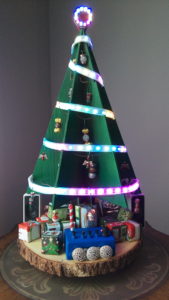 Thanks to our volunteer steering group, our participants and our sponsors … we've had a busy year!
Transitioned our meeting space from Victoria Computer Club to Q College.
Presenters this year – 24!
Developed Course Material for Pi Camp
Given away door prizes … 16 gb SD cards and a router
New – Linux SIG promotion – 2 meetings so far, 12 attending the last meeting.
New – Intro to Pi & Other SIG:  a short monthly session to help get you up and running with your Pi or Other (embedded device). It is an unstructured hour-long session where you can ask questions, bring in your Pi or Other (and power supply), and get help with your project. We plan on holding these sessions once a month on a Tuesday night. If you are looking for a bit of help, this session is for you.
*** Our Meetups ***
Spend some Saturday mornings with a coffee, some like minds, a presentation and a cool discussion.   And join us for the Linux SIG, a first of the month Saturday morning.   For times and locations visit our website here or our Meetup Calendar here.
2017/2018 Presentations
Sept 09 "RF control of switches"
Sept 23 "Kali Linux"
Oct 28 "OpenWRT/LEDE"
Nov 25 "PHP and SQLite"
Dec 9 "Esp8266 Over The Air Programming"
Dec 16  "Anti Squatter Security"
Jan 13 "Flight Tracker"
Jan 27 "IP Cameras"
Feb 10 "Power over Ethernet"
Feb 24 "C language"
Mar 10 "Django Part2"
Mar 24 "esp8266 Temperature and Soil Moisture"
Apr 14 "Jekyll + Github Pages"
Steering Group News
Our November meeting was held at Monkey Tree Pub with six in attendance. Some discussion items included webhosting, finances and promotion, future presentations/meetings, social.  Everyone is welcome to the Steering Group meetings.  The next meeting will be in January 2018.
Articles from the Archive @ vicpimakers.ca
*Notes from our June 24, 2017  and Nov 25, 2017 Sessions.  PHP, the language of the Web and PHP and SQLite
http://vicpimakers.ca/php/
*Presentation by Gordo published Feb 13, 2016
http://vicpimakers.ca/projects/raspberry-pi-projects/a-raspberry-pi-real-time-flight-tracker/
One of the many cool things you can do with your Raspberry Pi is to add a specific $20-$30 DVB-T USB dongle and install some software to turn your Pi into a real-time flight virtual radar (for radarspotting) or data feeder to FlightRadar24.com (FR24) and FlightAware.com (FA).
News from our friends and sponsors:
*Victoria Computer Club.    150 members can attend any of several sessions per month, held at Silver Threads Passmore Center.
victoriacomputerclub.org
*Q College offers a cutting-edge web development course, digital marketing course and coding training to give graduates fundamental tech skills.
qcollege.ca
Read articles, view Raspberry Pi RSS news, find links,
Our website is always looking for help. Have content? Have WordPress experience? Like to check links? Contact vicpimaker@vicpimakers.ca
Join Us at Meetup
https://www.meetup.com/Victoria-Raspberry-PiMakers-And-Others

Mailman Listserve
Use the web interface: here http://vicpimakers.ca/mailman/listinfo/vicpimakers_vicpimakers.ca
Cool links:
Video: What is Raspberry Pi? – Five years of Pi! from TheRaspberryPiGuy
https://www.youtube.com/watch?v=wivyPH4AF1Q
Let's chat soon!